By Kate Flournoy
As You see, Lord, let me see.
Teach my eyes Your sight.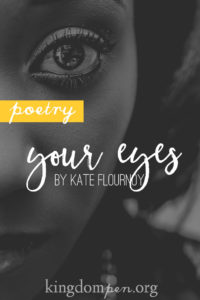 Teach my heart to comprehend
Your sorrow through the night.
Teach my eyes to see the tears
Of shame and agony;
And have compassion on the fears
Of other beings like me.
Let me see their broken forms
As You see them, Lord.
Show my feet the path through storms
That my eyes never could.
Strip away the fleeting hopes
And teach my soul to know
All things as they really are,
In fallen, sinning woe.
Then take my eyes and give them sight,
And break my heart of stone,
Give faith and hope and grace and might
Through Your love alone.
Show me how I look to You,
In sinning brokenness and shame,
And give me strength to start anew
In the power of Your name.
Strip away the false in me;
Cleanse my heart of lies,
And teach my fallen soul to see
The world through different eyes.
---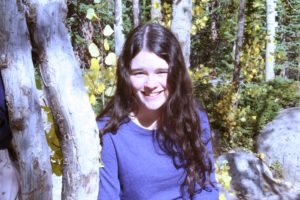 Kate Flournoy is a seventeen-year-old authoress and die-hard political junkie. She lives with her parents and nine other siblings in the Hocking Hills of southern Ohio, where they run a cabin rental business. She has been homeschooled all her life, and to date has written eight completed novels (only four of which are worth mentioning), numerous poems, and a handful of short stories. Besides writing, she enjoys singing, drama, reading, philosophy, psychology, painting, and a host of other minor hobbies such as calligraphy, wood burning, and jewelry making.
She loves deep discussions, vibrant colors, strong tea, and old books; detests all board games except chess; and has a dangerous habit of walking around with her head in the clouds.
When not writing or reading or practicing musical trios with her sisters, Kate can be found diligently attempting to be witty, climbing an occasional tree, and avoiding her three deadly enemies: coffee, cream cheese, and shrimp.