By D.G. Snapper
There once was a man from Vain
His life was focused on gain
He worked for his wants
It pleased him just once
And his countenance was blank as a pane
There once was a girl from Vain
Her escape came only from feign
She laughed and she tried
Only it was a lie
All she did went down the drain
There once was a boy from Vain
Never did he think to constrain
His thoughts he let loose
Even that was a ruse
Like the moon, his attitude would wane
There once was a woman from Vain
Her beauty came from her long mane
But inside was conceit
The darkness of deceit
Who could wash the bountiful stain?
There once was a slave from Vain
Freedom was only for the birdbrained
His heart was there
His help was where?
An identity solely from his chain
There once was a king from Vain
His main interest was in champagne
A reason to celebrate
Drinking wine, his trait
Against his belt was much strain
There once was a hunter from Vain
He was the only one with a brain
A gift from the Lord
That was for sure
The truth he could not restrain
There once was a hunter from Vain
He preached what he believed to the domain
The king was displeased
The hunter planted the seed
God's glory was worth all the pain
There once was a man from Vain
Now he only wanted it to rain
He kicked up the dust
The Lord's love melted the rust
The man believed what the hunter explained
There once was a girl from Vain
She'd had enough of the campaign
A Book she read
And her heart was led
She had royal blood in her veins
There once was a boy from Vain
Convicted he was of his lane
Paths he decided to switch
No question as to which
That the Lord is Lord was plain
There once was a woman from Vain
Could beauty truly be featherbrained?
A mirror she asked
To the answer, she gasped
Original beauty she wore once again
There once was a slave from Vain
A map he had of the true terrain
His heart was there
He was in God's care
Those chains he would no longer maintain
There once was a king from Vain
He sat on his throne in disdain
His people were gone
That was his con
To the end, he lived as profane
There once was a hunter from Vain
Whose eyes were red with tear stains
The Lord did His grace
And if that was the case
Then surely death was slain
There once was a land called Vain
But the children had jumped that train
Because they were free
And filled with all glee
They changed the kingdom to He Reigns
---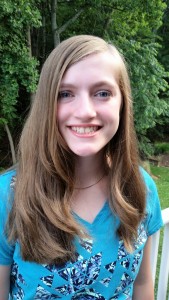 Fourteen-year-old D.G. Snapper lives in Southwest Virginia with her Christian family and a dog who can't decide whether he wants to sleep or run around the house in laps. Her writing hobby began nearly two and a half years ago, inspired by the fact that most of the books in the young adult and children's sections at the library were gory and/or inappropriate. A desire to write was kindled out of a hope to write a God-glorifying novel and her love of writing has grown since then. She loves medieval fantasies and historical fiction, and envisions her novels standing out among the other books on the library shelves.