By Jason Zimmerman
We carry our phones in our pockets
while our minds ponder other things.
We meet the world with hunger,
and treat ourselves like royalty.
The world tells us to ripen
like juicy fruit to pluck,
and we respond by shouting back,
"Good grief! We're only kids."
If we don't get the answers
to the questions we all have,
no big deal! We'll look on Wikipedia,
but the world's bigger than that.
Siri's not a mentor.
The world's not in our lap.
We need to face tomorrow
before today is done.
Opportunity has come.
We are a brainless nation,
the smartest in the world.
We've got the spunk!
We've got the cool!
We are the golden rule.
But when we break and batter,
we see the world as a tool.
Who are we joking?
We're lying to ourselves.
This year's generation,
and last year's too,
are all the same.
We need to change.
---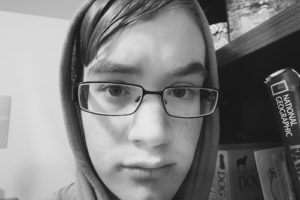 Jason Zimmerman is a 16-year-old passionate about serving God through writing and drama and loves embarking in strong, God-honoring relationships with other believers. He is currently working on a full-length middle-grade novel, The Cruel Cat and the Hero's Tail. He is also part of a Christian dance studio and has been taking piano lessons for ten years. His favorite book is The Giver by Lois Lowry, and he also loves Lord of the Rings by J.R.R. Tolkien, The Mysterious Benedict Society by Trenton Lee Stewart, and Cloak of the Light by Chuck Black. You can find him at miznos.wordpress.com.