By Nathaniel Penning
The monsters work behind her eyes,
when she wakes they pop their claws,
their shift won't end until she cries,
so they show her all her flaws.
The monsters whisper, "Go to a mirror."
And she follows their direction,
but the beast she sees looking back at her,
is not her true reflection.
The beast she sees is just a monster,
it has crawled into her view,
the rest of the monsters whisper to her,
"It's not one of us, it's you!"
The beast's body isn't thin,
it's way too large to be true,
yet she forces herself to throw up again,
and claims there's still more to lose.
The water is about to spill,
the ducts are about to burst,
but the monsters haven't had their fill,
they are about to do much worse.
The monsters whisper, "Look at your arms."
They're covered in marks and scars,
she has told herself she was done with self harm,
but this week has been mighty hard.
She reaches for that familiar knife,
a tear is about to fall,
she thinks she might want to end her life,
stopping this pain once and for all.
Before the blade can cause its pain,
before the monster shift ends,
before the tear can fall like rain,
an old voice whispers to her like a friend.
"I know that things have been quite hard,
and it feels like we've been out of touch,
child, just let me into your heart,
and I can promise you this much…
You will never be alone again,
I'll always be your friend,
I'm the Alpha and Omega,
the beginning and the end."
The monsters cower in fear,
they haven't heard this voice in a while,
one by one they all disappear,
and the girl begins to smile.
She throws the evil blade away,
leaves without a single mirror glance,
then she hears the new voice say,
"It's never too late for a second chance."
The monsters worked behind her eyes,
but now they have all gone,
and in their place sweet angels lie,
singing their heavenly song.
---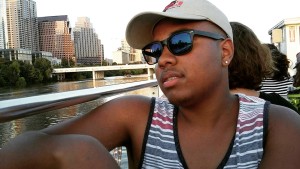 Nathaniel Penning is seventeen and lives in a small town in southwest Michigan surrounded by lots of family. He has always had a love for reading and writing, which grew into a larger focus in poetry once he entered his junior year. Other than writing, Nathaniel likes to Longboard, play the piano, and read superhero comic books. Spiderman is his favorite! One day Nathaniel would like to become a mental health counselor to help kids with some of the own struggles he faced.