Hello Kingdom Pen Community!!
This is Rachel Ramm, the very behind-the-scenes, the so-far-behind-the-scenes-it's-like-I'm-not-even-there web designer.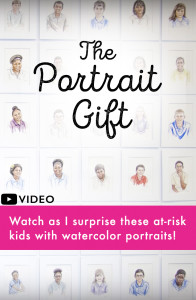 The reason for that extended title, is that I'm not actually a full-time web designer. In fact, I'm not even 25% web designer. It's more like 5-10%. Most of me is actually a fine artist, specializing in oil painting.
However, I'm writing to you now to let you know about a watercolor portrait project that I've been working on over the past year, and which is now nearing it's end. I also created a video about it and entered it into a Korean Beauty contest, but more about that later.
For now, let me start the story from the beginning:
In the Spring of 2015, having recently returned from a trip to South Korea, I searched for a way to synthesize what I was learning about this new culture, with my concern for children and my vocation as an artist. At that time, a documentary called The Drop Box was released, telling the story of that same country, whose misplaced values do not allow for the flourishing of "the least of these." This society, while outwardly succeeding, is seriously wounded at it's core, as evidenced by the lowest birthrate, highest rates of abortion, and one of the highest suicide rates in the world.
Processing this information led me to the idea for a series of portraits, where I could reveal both to the children themselves, and to all people viewing the art how beautiful children are, making visible how intrinsically valuable they are. The concept of human dignity and the value of children is centrally tied to our understanding of who God is, and what it means to be adopted as his sons and daughters, members of His eternal family, and younger siblings of the Lord Jesus Christ.
Who can possibly understand this without first experiencing loving a child with a pure love, not based on ability or connections or education or wealth? Who can behold the beauty of God's grace without first seeing the dignity of an individual, and wonder at the First Artist's best creation?
By God's grace, I am walking a path that will lead back to Korea to work on portraits of children in the orphanages of Seoul, and for now I am doing and learning what I can closer to home.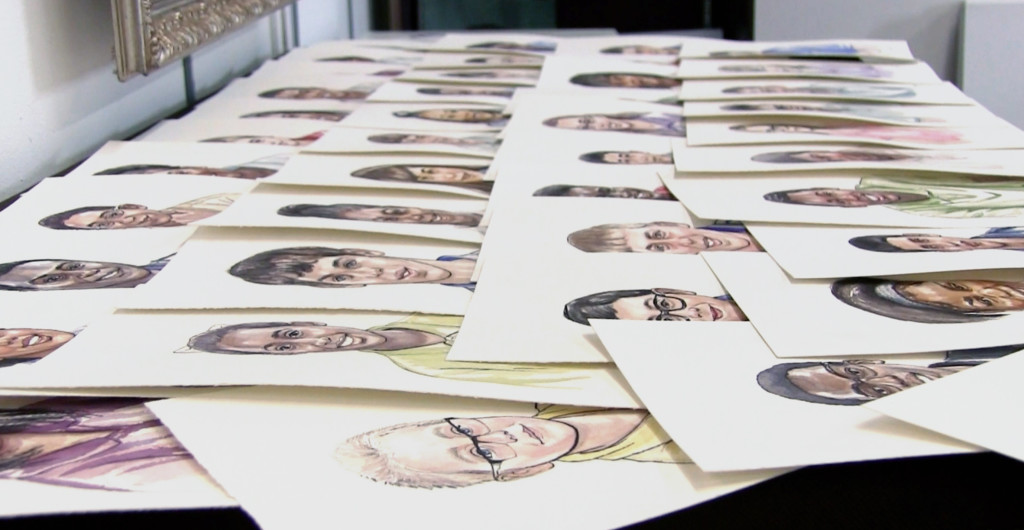 As a way to test this idea, I searched for a children's home close to where I live now, and my search lead me to Edgewood Children's Ranch in Orlando. Here, kids with behavioral and academic issues could get help 24/7. Each child that came to the Ranch had a heartbreaking story, and was on their way to continuing the cycle of brokenness unless they could get intervention.
I went and took a tour of their small campus, and got to walk around the small village of "cottages" where the kids lived, learning to keep their things clean and organized. I got to see their classrooms, where they took a more self-directed method of learning, similar to home schooling. I also saw the fields where they grew their own vegetables, and then ate lunch with the kids and enjoyed hearing about how God had provided for their needs in George Muller-like miraculous ways.
More than all this, I saw the love and care of the staff, from the "cottage parents" to the administration, everyone was dedicated to helping these at-risk kids get back on track.
I really didn't know what I had gotten myself into, but I knew I was on the right path.
In October of last year, I went back with all my photography gear, and took photos of all 42 students. I took the photos back home and ended up painting watercolors of every face.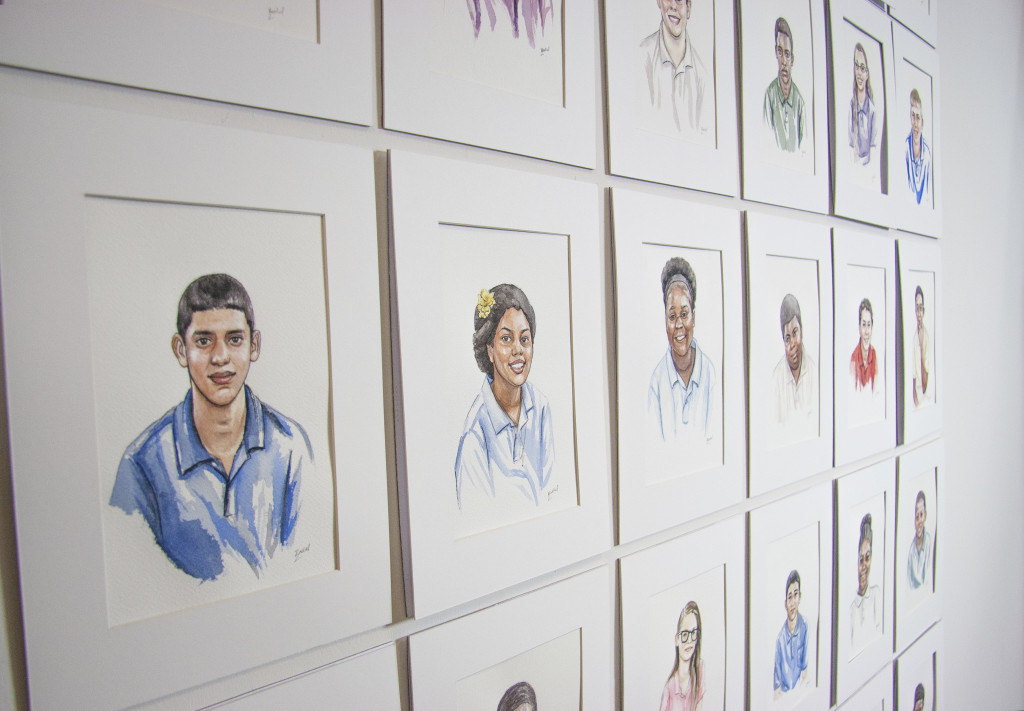 Each portrait took 4-5 hours, not including the time it took to edit the photos, photograph the art, mount and mat the final pieces. I also created a printed book that would serve as a yearbook for the Ranch, since they hadn't had the budget for one in 6 years.
It was so fascinating to paint so many different faces! What impressed me most was not what made each face different and unique (although there was plenty of that!) but the realization of how many similarities there were!
Fast forward to this Spring, and as I neared the end of this project, I found out about a contest whose theme was "How do you make people smile?" The prize was a trip to California, and coincidently, a certain graphic designer and I had been planning our own trip there and had been saving up the money. It was an eerily perfect match!
So I submitted my first video, which introduced the Portrait Project and included some speed painting, which was really fun! Apparently everyone else thought it was fun too, since I was selected as a semi-finalist!!
For the second round, I had to create another video, with the same theme, except this time making it a commercial by including this company's skin-care products in some way.
Well, KP Community, you know better than anyone that the best way to deliver any message is through story! Even commercials. So I packed up my paintings, and made the 3 1/2 hour drive back to Orlando. I wouldn't just give the kids' their art, I would get their surprised first-reactions on film!!
And this is where I need your help! The story is currently to be continued, because this final video is still up for public vote!! And the winner won't be decided until this Thursday night 🙂
If you'd like to be a part of this story and help decide how it ends, please go vote for my video here!!
There's not much else I can write that would be any better than seeing the looks on the kids' faces yourself. I guarantee that watching it will bring a smile to your face as well 😀
With all my heart,
Rachel
Here's a little teaser trailer:

If you have a project you'd like to share with the KP Community, we want to hear about it! Email us at kingdompenmag@gmail.com
*UPDATE 6/8/16*
Well, I didn't win the contest, but I got a much better prize! Sometimes rewards are much different than you think, so don't stop sharing what you create and pursuing the dreams that God puts on your heart. You never know how what you do may impact others for the Kingdom, so don't grow weary while you wait for all your hard work to bear fruit! Be patient and give thanks along the journey.