By Mary McDougal
There was a lass with golden hair
Like sun upon wheat shone
With eyes blue as a summer sky
And a heart made of stone
With soul-windows full of secrets
This queen of kilt glances
Had broken hearts upon her wake 
And silken advances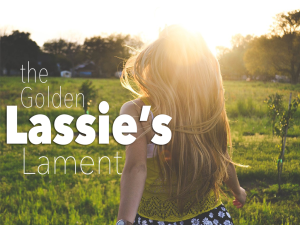 Never a tear fell from her eye
No regret plagued her mind
Though many a tear was shed by
Poor lads she left behind
But on that day, so fair and fine
When her prey she did seek
She found herself taken aback
By a lad, good and meek
He was a sailor, tall and dark
As a deep new moon's night
With honest eyes of gentle gaze
And heart both true and right
The queen was overthrown that day
How hard her heart did fall
For that dark, bonnie sailor lad
Who valued love or' all
And so she sought him to ensnare
In her usual way
Yet when she tried to engage him
He up and walked away
With playful ease she did stop him
In voice so soft did plea
After tossing her golden hair
"Don't you like what you see?"
That sailor stood so calm and strong
Eyes fixed on hers just so
"I'll tell ye lass, what I do see,
May it fill you with woe
How you do lure, beguile, and steal
The hearts of foolish men
Who search for love within thine arms
But embrace death instead
You cheapen love to mere fancy
Lasting long as you please.
Drinking until you've had your fill
Of all that you do thieve
You show no mercy to the weak
Nor concern to the cost
Each of your lovers come to pay
To want your heart of frost
I pity now, thine cold blue eyes
For they will ne'r gaze on
The true, pure, and the steadfast love
That flows from God's own Son
Your hair will grey like melted snow
All your charms pass away
Growing too accustomed to dark
You cannot face the day
Now I've a lass on home's fair isle
To whom I'll er' be true
For the beauty therein her heart
Will always bloom anew
To her I'll cleave thru' storm and gale
For when death comes my way
I know we shan't be parted long
And with our King we'll stay
So cast off lass, your brazen ways
Off wi' your colours now
Weep, wail, and above all, repent
Put on your mourning gown"
With that he did salute this girl
By hand upon his cap
And so left her broken-hearted
Lost at sea with no map
And then those eyes, once full of lies
That ne'r did shed a tear
On that day, finally did weep
Faint-hearted, caved to fear
It's said she fled to rocky cliffs
Crying unceasing ever
Never again was this lass seen
Regret her soul did sever
So as the ships skim softly to
Approach the misty shore
From the cliffs is heard a sad sound
Or so many men swore
Before the dawn lights up the skies
Soft cries will moan and start
Known as the golden lassie's lament
Who died of a broken, wayward heart.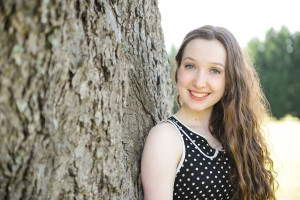 Mary McDougal is nineteen years of age and has written various forms of traditional and non-traditional poetry since reading Shakespeare's eighteenth sonnet at the age of thirteen and was hence inspired to try her hand at iambic pentameter for the first time. Ms. McDougal enjoys reading the works of many timeless authors, including (but not limited to) Shakespeare, Dickens, C. S. Lewis, Tolkien, Chesterton, Anne Bradstreet, Tennyson, and Stephen Lawhead. She also enjoys studying works of Puritan writers, Arthurian literature, and Old English Folk ballads.
The Lord has endowed her with a passion for redeeming the arts unto the glory of God, especially in the forms of writing and dancing. She has danced with the Richmond Ballet in Virginia and has trained and performed in various venues across the United States.  Mary currently resides with her family in Atlanta, Georgia and dances with the collective "Bluebird: Uncaged" which seeks to bring hope and dignity through dance.  Her blog can be accessed at amarysmusings.blogspot.com