By D.G. Snapper
According to the riches of His grace,
I am covered by the shield of faith,
Under His yoke
With unconditional love
Which is beyond comprehension.
Apart from the world;
Against the evil,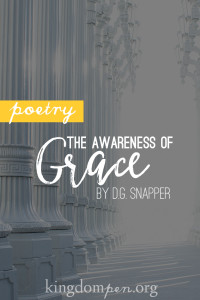 And in the place of condemnation
Prior to accepting that I have fallen utterly short
Within the light of His glory.
Despite my folly,
We are next the green pastures
Behind the Good Shepherd
Next to the Still Waters
In regard of His Majesty.
On account of zealous adoration,
We are ahead of our past,
And are growing toward His perfect will.
We are relating to His sovereignty and undying mercy,
Admiring His zealous adoration
Which is opposite to rejection;
Owing Him our everlasting supplication.
Between the words of encouragement
And past the temptation,
Abandoning the corrupt nature and selfish desires
Because of His grace; until His return,
Together with fellowship and testimony
After the repentances and redemptions since the cross,
We are called by reason that we are sealed
Concerning the brotherhood and alongside fellow believers,
Therefore to spread the gospel amongst the nations.
Hallelujah for the cross!
For I am undone by its mercy and grace—
That which was brought to us at the cost
Of our Lord Jesus Christ, the King of Kings.
---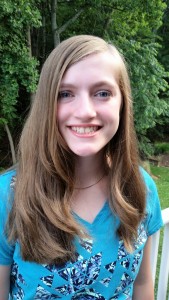 Fourteen-year-old D.G. Snapper lives in Southwest Virginia with her Christian family and a dog who can't decide whether he wants to sleep or run around the house in laps. Her writing hobby began nearly two and a half years ago, inspired by the fact that most of the books in the young adult and children's sections at the library were gory and/or inappropriate. A desire to write was kindled out of a hope to write a God-glorifying novel and her love of writing has grown since then. She loves medieval fantasies and historical fiction, and envisions her novels standing out among the other books on the library shelves.