A fine line separates inspiration and imitation, or so the saying goes. Writers struggle to define this boundary more than most artists—they are, after all, rearranging the same twenty-six letters in various patterns judged to be the most pleasing to the mind and ear. The number of plots guaranteed to captivate readers is also limited (falling in love, freeing the kingdom, solving the mystery). Since fantasy writers have immersed themselves in the worlds of their literary heroes from childhood, they cannot help subconsciously modeling their own stories off them.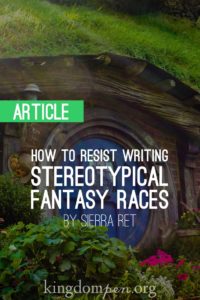 Thus, it is unsurprising that many books seem to be penned by copycats, or just another Lord of the Rings rip-off. Nevertheless, original fantasy works with fascinating new species are still being written and enthralling audiences. What are these authors doing differently?
To answer this question, let's examine the staple of high fantasy: the common elf.
How Tolkien Reinvented the Elf
These mythical beings predate recorded history and intersperse Anglo-Saxon, Icelandic, Germanic, and Scandinavian tradition. [Read more…]