I wanted to write a novella in one week. The math was simple enough; my novellas ended up around 25,000 words long so if I wrote 5,000 words a day for five days, I'd finish it Friday, leaving Saturday for rounding up any extra words which spilled over.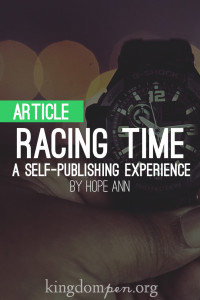 The actual thought of 5,000 words in one day was intimidating to consider, but I knew of another writer who had recently written 10,000 words in one day. If he could do that much, surely I could do half that amount and keep up the pace for a whole week.
The Course
The first order of the day was to map out the number of words to write along with when they needed to be written. In my case, I was writing a novella in one week, but this same structure would work for any wordathon, be it a novel in one month or a chapter in one day.
But that was just the beginning. Before I typed a word, I spent a week in preparation, going over the course my fingers were to cover in the next week. I looked up names, planned out characters, and outlined the story. It wasn't perfect; in writing there are always some things which just happen. One character unexpectedly appeared halfway through my novella, and I didn't work out the details of the climax until the day before writing it, (not something I'd recommend). But having an outline to work from, and knowing what was supposed to happen next, was a great help later on when I just had to focus on writing, not smoothing out numerous bumps and potholes in the plot. [Read more…]