His books had been in our house for years. But it was only a couple of months ago when I really took a closer look at them. After reading What's So Amazing About Grace?, I was thoroughly convicted, challenged, and more determined to live a grace-filled life. And was also thoroughly captivated with Philip Yancey's work.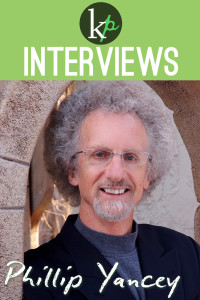 I had to read more. But first I wanted to tell him thank you. After contacting him through his website I wrote him a note in the comments section and then had the marvelous idea to get an interview with him!
After gracious months of emailing back and forth here is the wonderful result of the interview!
There is much wisdom to be gained from this seasoned, non-fiction author as his answers are chock full of writing advice!
Kingdom Pen: What is your personal testimony?
Philip Yancey: I'm in the process of writing a memoir, so you'll get the full story one of these days (or years).  Unlike many testimonies, mine tells of a conversion from the church—from an angry, uptight, racist, legalistic church in the South.  As a Christian and as a writer, I've spent my life and career picking over the words and concepts I learned from that church, understanding them anew in the light of grace, and discovering the hidden treasures that were layered over.  I've found, sadly, that the church is as likely to turn someone away from God as toward God.  It's amazing that God would turn over the mission of spreading the Good News to ordinary people like us, as we so often get it wrong. [Read more…]