On the surface, sci-fi is one of the easiest genres to define: stories involving speculative science. But the word speculative has deeper connotations than you might think. When authors incorporate as-of-yet uninvented technology into their stories, they are speculating answers to different what ifs. What if people had the ability to indefinitely extend their lifetimes? What if the government had to completely restructure itself to deal with the changing population demographic? What if certain religious groups rejected the artificial life extensions and suffered persecution for continuing to procreate, which the rest of society worries could lead to overpopulation?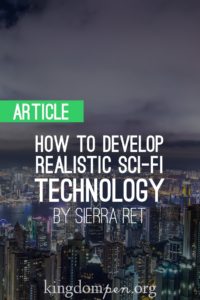 Sci-fi writers are equally nerds and philosophers because they explore the limits of mankind's knowledge and the fundamental reality of human existence. But when writers fail to show the various ramifications of their fictional technological achievements, their story worlds ring false.
Thankfully, you can avoid this fate by tackling the following five questions in your sci-fi story.
#1: What is the Government's Response?
One of the most implausible elements of most sci-fi stories is that a fantastic, life-changing technology is developed, yet the government does nothing—instead of flooding the scene with an overabundance of red tape and restrictions.
Marvel's Civil War did an admirable job of addressing the state's role by playing out what happens when lawmakers, international boundaries, and governmental oversight finally catch up to scientifically enhanced superheroes. Cap and Iron Man, who previously enjoyed a free reign as they thwarted evil, must choose between submitting to a questionable higher power or acting as vigilantes. [Read more…]