By Timothy Young
After I had been stricken for many days, I laid down in the shadow of a rock and fell into a restless sleep. I had slept here before, but it had been some time ago.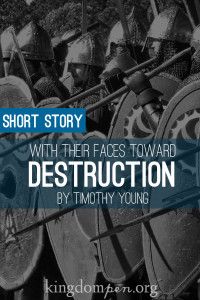 As I slept, I dreamt of a fair country, or it seemed fair at first. Then I realized that something was wrong with my vision. From the high perch through which I viewed this fair-looking country, I saw two armies approaching one another. From one teamed hordes of evil: dragons, goblins, giants, and loathsome men corrupted by outside forces, but also their own innate evil. Above their camp floated pennons of all colors, some as black as the heart of their leader, others red like the blood that these fiends were intent on shedding, some of purple and other rich colors alluding to nobility and wealth, and even a host of white banners that resembled the other camp's banner—except these were stained with filth or torn and shredded.
The other camp displayed a single white banner, so pure that it seemed as if it were freshly bleached, even though it had been there from ages past.
I began to make comparisons of numbers, but the numbers were such as to defy computation, and I decided to take a closer look. My eyes were drawn to the side that had but one banner, as they appeared smaller in number, and I wished to know how they encouraged themselves. [Read more…]