Quick. What's your first reaction when you hear that the "littlest" members of the family are coming to spend some time at your house? For some of us, it may not be excitement. It means no computer time and an indefinite number of little kids to watch for the duration of their stay. Synonymous with the end of the world? Maybe not, but it's not going to be a walk in the park either.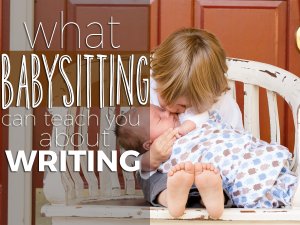 I mean, really. Authors, the predictable species that we are, are already self-conscious enough about our writing. Hide the screen at all times—even if it's just the innocent passerby. And one plus prying pairs of eyeballs? Yeah… there goes your last hope for finishing NaNoWriMo. Introverted? Too bad—the family is expecting you, being the responsible young adult that you are, to keep your cousins occupied.
Now what, aside from what sounds like Sarah feeling the need to tell you about her most grievous position over the holidays, does this have to do with writing? They're little kids, after all. They can't even read yet. Ah, but it's not them that will be learning something. It's you.
When my two little cousins, Charlie and Nora, arrived yesterday, the first thing we did was jump right into the action– we went to our big swing at the end of the field. Well, right after introductions.
Think about it. What kind of beginning do you want to have in a novel? Certainly not one that starts off with a bunch of boring information dumps about how life has been for the author, or all the not-so-important conversations about daily life and normal things, God forbid that we have remotely normal lives. No, you want to jump right into the action.