By Mark Kamibaya
You've got your fight scene all figured out. You've followed the five basic scene planning principles and have made sure to keep character at the forefront. Now for the hardest part: writing the fight scene.
A picture is worth a thousand words (or so the saying goes). So if a picture is worth a thousand words then how many words is a movie worth (24 frames per second and about two hours long)? Movies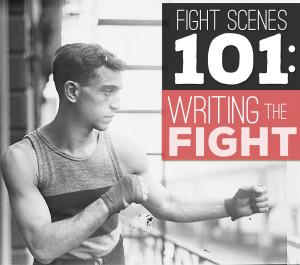 seem to have supremacy over books especially in the area of fight scenes. Action is very much a visual journey. Would you rather read:
John turned left and punched the man with his right hand, but the man dodged the punch and returned that punch with another punch straight to John's face.
or see it happen? Movies even have the advantage of hearing the sound of things we've never heard before supported by the greatest emotion mover, music. But if movies reign supreme, then why do we always hear that the book is better? There are only two advantages that books have over movies. And we need to use them to turn something visual, like action, into something experiential.
First, character connection.
The power of this is in the reader. Books can show the reader the thoughts of characters. Their internal choices and battles. Readers step into the shoes of the character and join them on a journey at the same time. This is why the book is always better than the movie. You can never be closer to someone other than yourself than with the character of your favorite book. The depth of the relationship is so close it cannot exist off the page.
Note: Actually it can exist off the page. But only divinely. [Read more…]