My favorite sci-fi stories always seem to be tight. The sci-fi elements, the characters, the world, and the theme are all closely intertwined. Whether the stories are relatively small scale (the movie Arrival) or full-blown trilogies (Jill Williamson's The Safe Lands), they blend otherworldly characteristics with real-world issues to create a compelling narrative that not only entertains but explores and instructs.
But how? Theme was complicated before aliens and phasers and warp speed got in the way. Are you supposed to handle theme the same as you would for non-speculative genres?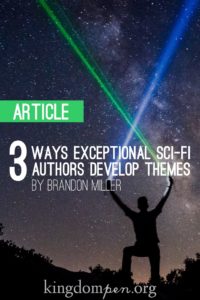 No, because genres differ for good reasons. Speculative stories are set apart by their diverse options for communicating theme. Sound scary? Maybe. But exciting too.
However, before we start discussing themes, we need to take a minute to talk about the genre.  Sci-fi stories are defined by their Primary Fantastic Element, which makes them surpass reality. For 20,000 Leagues Under the Sea, the PFE is the existence of the Nautilus. For the movie Passengers, it's the ability to put people into hibernation while they hurtle through space for one hundred and twenty years. Perhaps your futuristic world features flying cars and surgically implantable bio-computers that enhance sensory detail, but only one element should be so drastically different from the real world that the story rotates around it. That is your story's Primary Fantastic Element, and it is the axis of your theme. [Read more…]