As of this Saturday, I've been reviewing submissions at Kingdom Pen for four years. During this time, I have seen several trends in content that's submitted for publication.
Few are as prevalent as allegories.
Roughly half our fiction submissions are allegories of some form. But I can count on one hand the number of allegories I've approved to be published over the past four years.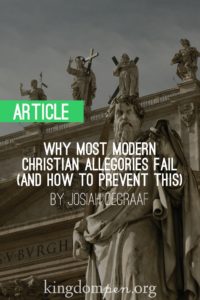 Simply put, most modern Christian allegories are terrible. Somewhere along the road, it seems that Christian writers began to believe that traditional rules of writing compelling, three-dimensional characters and subtle, non-preachy themes don't apply to allegories. As a result, most modern allegories I've read follow the same blatant retelling of the Gospel story centered around a conversion narrative with flat characters and a predictable storyline. Bonus points if Christ literally shows up in the story or it's set in a generic fantasy environment. [Read more…]