The climax.
That point which should be the tensest, most enthralling portion of the book.  Done well, a climax can be simply stupendous.  However, there are also few things in writing that are as bad as a climax done poorly.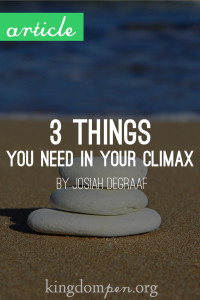 As one example, there was a series that I was reading a couple years ago that had a ton of promising potential.  It had great characters, gave an amazingly-executed theme, had a thrilling setting, and was explicitly Christian without falling into any of the traps that Christian fiction can have a tendency to fall into.  The first book was stellar and was my favorite novel that I read that year.
But then I came to the second book, which, while it maintained much of the momentum from the first book, failed to have a climax.  It merely set up the last book and thus lacked any real type of conclusion.
I still think the first book is excellent, and still want to finish the series sometime.  But I finished the second book two years ago.  And I haven't brought myself to read the last book of the series since then.  Despite everything that the series had going for it, it had a distinct lack of a climax.  And that lack killed everything else going on in the series.
Obviously, this isn't the type of reaction that you want to get from the readers of your book.  While on the outset, the climax may seem rather simple—it's where everything gets resolved after all—it can often be trickier to execute than it seems on first glance.
"And given how devastating a poor climax can be to an otherwise good book, a lot rides on the success of a climax, so it's a part of your story that needs to be planned very carefully."  
There's a lot that could be said about a novel's climax—after all, it's a big topic.  However, as I've been thinking of the climax, there are three basic things that every climax ought to have.  Or, rather, three balances.  Let's look at each of them in turn. [Read more…]