One of my favorite classes that I took at a homeschool co-op during high school was a chess class taught by a local grandmaster. I learned many different chess openings, position tactics, and endgame tactics, all of which improved my chess strategy.
One day the grandmaster was explaining a game he won against another high-ranking chess player. He pointed out that one move in particular was important because it served multiple purposes. His words stuck with me: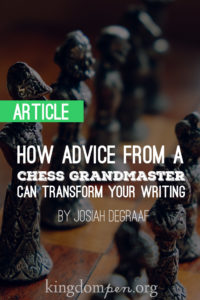 "In chess, a mediocre move only does one thing. A good move does two things at once. But a great move does three things at once."
This advice not only changed how I play chess, it transformed the way I write.
Pinned by the Single-Minded Approach
Often, when we begin writing a scene, we want to accomplish one specific goal—to have a character explain a massive plot twist or the villain enact a stage of his evil plan. [Read more…]