By M. R. Shupp
If your best friend was kidnapped, to what lengths would you go to bring her home?
Piper Sail is an eighteen-year-old woman living amidst the jazzy 1920s. When her best friend, Lydia, goes missing, Piper breaks the societal expectations for a woman her age and investigates the disappearance. She earns the disapproval of many, but she does catch the eye of a handsome detective named Mariano.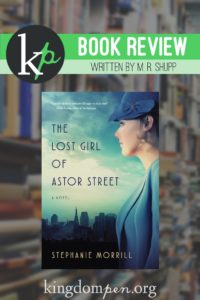 Together, they continue to search, but Piper discovers information that makes her believe Lydia's abduction is part of a bigger scheme.
Stephanie Morrill's novel will transport you to the heart of glitzy 1920s Chicago, complete with flapper dresses, speakeasies, mobsters, and corruption. When I began reading the story, I was surprised at how quickly it came to life. Morrill contrasted the affluence of Astor Street against the underbelly of Chicago through detailed description that blew me away. [Read more…]