For the past ten years, Rachel Starr Thomson has been an inspiration to me on numerous levels. I first encountered her when she was a columnist for the Amie Newsletter, a publication dedicated to encouraging teenage girls. Her articles on the Christian walk impacted me deeply during a season in my life when my steps were unsure.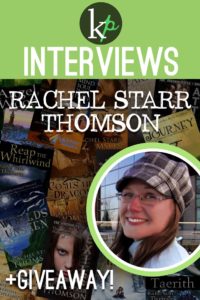 After the Amie Newsletter was discontinued, I stalked Rachel on her blog—always reading but never uttering a peep. She posted writing tips back then, which fueled my aspirations to sling words onto paper and into people's hearts. I admired—and almost envied—her fluid, artistic voice, and her courage in building a platform for herself through self-publishing quality books.
I bumped into her again years later when I submitted an article about storytelling to Homeschool Enrichment Magazine, where she served as copy editor. Shortly after my article was published, I began receiving requests from authors for help with refining their work, and I discovered that polishing sentences gave me a sense of satisfaction I'd never felt before. I realized I was suited to editing and wanted to pursue it seriously, but I had no idea how to get started. I sought advice from Rachel because I had no one else to ask, and she kindly imparted counsel that has proven invaluable. I can honestly say that I wouldn't be where I'm at now (editing for KP and a small Christian publisher) without that short e-mail she sent in response to mine.
Thus, it gave me great pleasure to approach Rachel on behalf of Kingdom Pen and ask her about her experiences as an author of more than twenty books, blogger of Kingdom truths, and a freelance editor for twelve years. I found myself empathizing with and learning from her comments, and I know all of you will benefit from hearing her wisdom as well. Read on, KeePers, and be sure to check out the book giveaway at the bottom of the post!
KP: You're considered a pioneer of self-publishing. What caused you to choose indie over traditional publishing?
Rachel: I started experimenting with indie publishing back in 2006 or 2007, while simultaneously looking for an agent and a traditional book contract. I'd done so much writing over the years that I wasn't even thinking about pursuing publication for all of it, so self-publishing was just a fun way to learn how to produce a book and put something into print myself. I've always had an entrepreneurial bent, but mostly I was just playing around. I realized it might be a real, viable publication path slowly, especially after I checked on an e-book I'd put up for free on Smashwords and forgotten about and realized it had been downloaded over 25,000 times while I wasn't looking. Eventually "playing around" gave way to thinking more seriously about writing as a business. I much prefer the control of self-publishing, which applies to many aspects of the publishing journey, from timelines to content to career trajectory. [Read more…]