Welcome to the 37th edition of KP Critiques! May others be inspired by your bravery, R. J. Wordsmith. Even the most skilled knights of the pen shudder at the sight of an editor's dagger, but it's a necessary training procedure. Although you may emerge with blood splatters on your hands, your sword will be sharpened and your story will wield more impact.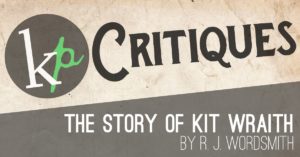 Before I begin, I have a quick note for anyone who has viewed my previous critiques. Up until now, I've essentially performed a critique and copyedit combo on each piece wherein I've tried to improve the sentences as well as comment on plot, characters, theme, etc. However, I've decided to cease that practice because it's tedious and time consuming to transfer all my line-level edits from a Word document to a blog post without missing something. I will still be doing critiques, but more in the true sense of the word (focusing on content only).
I thought I should mention this change in procedure, lest someone spot a typo or grammar error and mistakenly assume I've lost my "superpower." 😛 Occasionally I may point out small blunders and trim words, but generally I won't be marking up novel excerpts like a copyedit anymore. Since the following story contained some recurring issues, I've positioned my assessment at the bottom of this post rather than scattering it throughout. My apologies to anyone who hoped to witness or experience a more comprehensive edit. Thank you for understanding. 🙂
Now, onward to R. J.'s dastardly tale!
James 'Kit' Kessington Wraith lived at house No. 166 on West Regicide St. in the City of Wickton. He came from a perfectly respectable evil family (two of his more famous ancestors being Morgana and Mordred) and was top of his class at the 'Wickton Academy for the Mastery of the Villainous Arts'. Now you may think it strange that this story does not begin with the introduction of a classical hero, but truth be told this story isn't about one. For you see, sometimes the world needs a hero to save it and other times the job can only be done with a bit of good old-fashioned villainy. But I begin to digress. [Read more…]