As writers, we are sometimes accused of gloating or chuckling evilly to ourselves in dark castles over the sorrow we cause readers when we kill favorite characters. I won't confirm or deny that, but I will say that writers who reap tears from readers will feel the deep satisfaction of a job well done, because they've made readers care about the characters.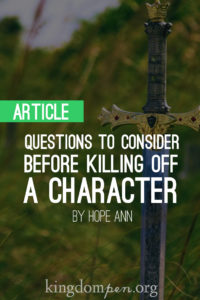 But whether we weep over our characters' deaths, rub our hands and grin over them, or indulge in both reactions by turn, several points must be considered when deciding if a character needs to die, how he should die, and the end result.
Does Your Character Really Need to Die?
Not everyone has to die. Otherwise no one would be left to mourn the deceased, and where's the fun in that? Also, sequels tend to need living characters to fill the pages and bring readers back to your stories. In all seriousness though, depending on what you are writing, it's likely that a character (or two, or ten) will die—but you must have a reason. [Read more…]