Who's ready to find out who the second place winner is???
Sorry for delaying this and dragging out the suspense; I'll drag it out no longer!!!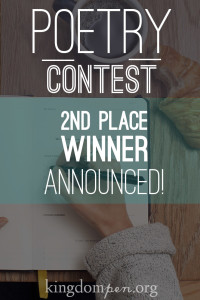 MacKenzie and I were absolutely delighted with this poem. (I know, I know, I said I wouldn't drag it out any longer, but this is fun! Keep reading!) The poem itself actually looks like a piece of art. The shape of it reminds you of a falling raindrop. As the poem progresses you can almost feel the rain falling. The creativity and style was fabulous! I'm sure you'll enjoy reading it just as much as we did!
Congratulations Katrina V. on your poem, Rain!