It's January, the month of new beginnings. You've made your New Year's resolutions, and maybe, just maybe, one of them involves writing. Maybe you resolved to write a novel. An entire novel. And maybe this time you're actually going to do it. So you sit down in front of a word processor with your fantastic new idea and start tallying up the word count.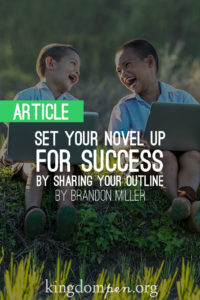 Not so fast. Before you get carried away, you should take a minute to set yourself up for success in your novel-writing endeavor.
First, you need an outline. If you don't have one yet, check out my post on how to quickly create one. It doesn't need to be complicated or too in-depth. But it should provide direction for your novel so that you don't end up wandering aimlessly, or not moving forward at all.
Your outline is the skeleton of your story. You want it to be great; unfortunately, it isn't. Not yet. You won't be able to see its flaws, but they will be there nonetheless. Plot holes you didn't consider. Flat/useless characters you thought were important. Exciting sequences that shouldn't happen so rapidly. Your outline will be full of little errors and slip ups that you won't notice, and maybe your readers won't notice them either. But each of those mistakes is a missed opportunity for improvement. Also, a small flaw in your outline could morph into a huge muse-killing flaw in the final product. Sound bad? It is. Once you've written your draft, outlining errors are difficult and time consuming to fix. So how can you find them before it's too late? [Read more…]