By Jamie Dougall
Since childhood, I've been fascinated, or perhaps obsessed, with right and wrong. Mom tells me stories about how I knew there was a right and a wrong way to do something, and would not do anything until I figured out which way was right. Now I've grown some since then, and I've realized sometimes there is more than one way to get a job done. Still, I have that same desire to get things right, and that desire redoubles when it comes to the written word.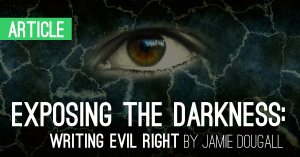 After all, once your words are in print and in the hands of your readers, you can never change them. I've wrestled with questions like:
Many Christian writers struggle with these questions. We want to craft good stories, we want to "get it right", but most of all we want to honor a God who hates evil. We feel stuck and kind of dirty, wondering if God is upset because our stories contain so much darkness. We stare at our notebooks or computer screen and ask, "Did I just cross the line?"
In order to truly answer these questions, we must first trace darkness to its root. Why do we include evil in our stories at all? Most would quickly respond, "Because we have to! Stories would be lame and boring without darkness and evil. Nobody would read them."
But why?
It turns out, the answer is really simple. With the possible exception of survival and "man versus nature" genres, all stories depend upon sin, darkness, and evil to create conflict. If you have good, it seems perfectly natural to have evil come up against it. Christian and non-Christian authors are all in agreement with this idea. Though some authors might protest my word choice, their work testifies to the fact that stories rely on a moral battle to create conflict and generate plot. [Read more…]