Anna Shipley had often been told she was an old soul in a young body. And upon being admitted to the Golden Years nursing home at age nineteen, her first thought was that fate had an unusually twisted sense of humor.
Following that initial observation came a host of others, mostly of a grim and hopeless nature. She soon found existence easier if she avoided thinking and instead focused on small diversions. This morning she took an inordinate amount of pride in confirming that three hundred and seventy-eight tiles covered her gray ceiling, which she would have reported had anyone asked her.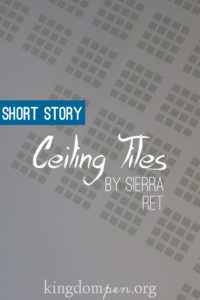 "Her" ceiling was a relative term, for she had been shuffled into an out-of-the-way spare room while the nurses were manically sanitizing everything after last month's influenza outbreak. I'm no different than the furniture.
The thought caused her mood to further deteriorate. Great. It's barely past ten and I'm already indulging in self-pity. Pull yourself together, Shipley. [Read more…]