Some books that start out bitter end up being the sweetest of all.
C.S. Lewis's The Last Battle lacks the charm, magic, and wonder the preceding stories possessed. An unsettling gloom lurks over the land as the story opens with two of the few talking animals left in Narnia, an ape named Shift and a donkey called Puzzle.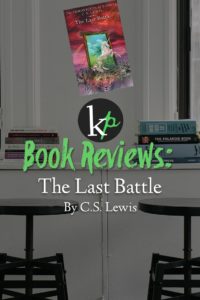 When Shift and Puzzle find a lion skin, the ape gets the brilliant idea to masquerade his dumb donkey friend as the great lion Aslan, fooling many. Upon hearing the news that Aslan has been spotted in the country, King Tiran and Jewel the unicorn are thrilled, until they realize terrible deeds are being performed in Aslan's name. Dryads are being murdered, talking horses abused, and Calmorenes are invading.
"Do you think I care if Aslan dooms me to death?" said the King. "That would be nothing, nothing at all. Would it not be better to be dead than to have this horrible fear that Aslan has come and is not like the Aslan we have believed in and longed for? It is as if the sun rose one day and were a black sun." (Pg. 30)