It's that time of year when we fasten our capes, buckle on our swords, brace our fingers, and begin to fight—ahem, write.
Fifty thousand words written in one month. Are the warriors who attempt this venture insane or courageous? Perhaps they are both, but whether you defeat NaNo or merely survive it, the fight will strengthen you in your day to day struggles against word counts and plot twists. After all, producing a five-hundred word article is nothing compared to writing two thousand words a day for a whole month.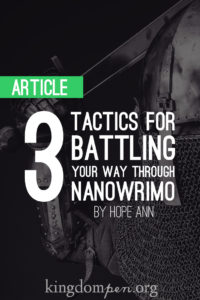 With this major battle before you, here are three tactics that can give you victory in your quest.
1. Deadlines
Yep, those things that nag at you when you try to ignore life—or writing. But deadlines make sense. No one enters a war with the whole fight laid out before them. Instead, a soldier is assigned one mission at a time. Wars are divided into battles, and battles into maneuverers. Conquered piece by piece, what at first seems overwhelming becomes at least doable.
Fifty thousand words in a month seems like a huge amount, but 10,250 a week breaks it down a little. If you plan to write six days a week, that's only an average of 1,725 words a day—which is roughly five hundred words multiplied three and a half times! That's not so bad. [Read more…]