One of the biggest mistakes you can make as a writer is to allow all your protagonists to get along with each other.
Many of us are inclined to do this because we love our characters. The protagonists are all working together toward the same goal, right? So why shouldn't they have a harmonious relationship?
But this habit keeps writing from being great—and kills the story.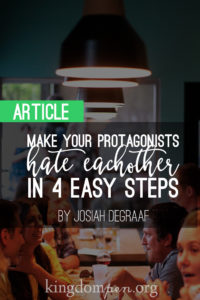 Last summer, I read a Christian fantasy work which bored me to tears for a simple reason: the four or five protagonists always got along and never had any conflicts that weren't immediately resolved with an apology. [Read more…]