Creating Character Arcs: The Masterful Author's Guide to Uniting Story Structure, Plot, and Character Development by K.M. Weiland
Disclaimer: I received a free copy of this book in exchange for my honest review.
According to Writer's Digest, K.M. Weiland runs one of the top one hundred writing sites, and she spends a lot of time on her blog giving advice to writers. Since I've followed her blog and read her books for several years now, I had high expectations for her latest book on fiction writing.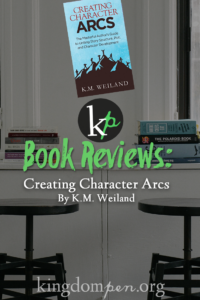 But with this book, Weiland matched and even surpassed my expectations.
In Creating Character Arcs, Weiland delves into the art of crafting character arcs and structuring a story around the protagonist's character arc in a way that leads to deep themes. As Weiland points out, one of the key benefits of a strong character arc is how it unifies the story. Plot and character are too often viewed as opposing forces. [Read more…]