"Your story is a bit cliché, don't you think?"
For a long time, I dreaded I would hear those words. They seemed like the ultimate insult, meaning that anyone could have written my story.
I was obsessed with avoiding clichés. I Googled "fantasy clichés," and I even posted a list of ten common ones on my blog. I gave the characters in my fantasy world Hebrew-based names—no Norse or Celtic for me. My fantasy nation would not have a monarchy! And heaven help me if I even read a book with a damsel in distress, an evil dragon, and a brave prince.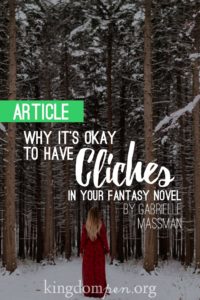 However, I've recently come to a new conclusion about clichés. I think we need them, and uniqueness is grossly overrated. Isn't the Bible and the entire history of God and humans one big cliché? Kill the dragon; get the girl (Revelation 12:9 and Isaiah 62:4–5). [Read more…]