So, about two months ago, I (Josiah) picked up this random indie book by a Christian author and absolutely loved it.  (You can check out my review of the book here!) After finishing it, I just knew I had to hear more from this author about how she wrote the book and what made her characters as vibrant and complex they were.  And after hearing her thoughts, I thought you all might benefit from hearing from her as well! So, below you'll see the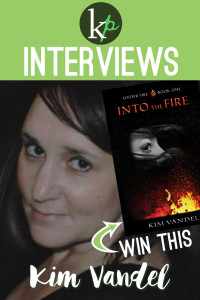 results of my interview with her, and if you read all the way to the end, you'll be able to enter a giveaway for her book, Into the Fire (plus, she's throwing in a bookmark and temporary tattoo as well because she's just an awesome person.) So read on to hear her thoughts on writing characters and attending writer's conferences!
KP: When did you first know that you wanted to be a writer?
Kim Vandel: I was in seventh grade when I first had the "I want to be a writer" thought.
KP: In brief, what did your journey look like from knowing you wanted to be a writer to actually writing and publishing Into the Fire? [Read more…]