Welcome to the 36th edition of KP Critiques! May others be inspired by your bravery, Lady Kate. Even the most skilled wordsmiths shudder at the sight of an editor's dagger, but it's a necessary training procedure. Although you may emerge with blood splatters on your hands, your sword will be sharpened and your story will wield more impact.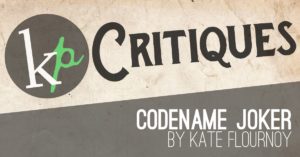 I issue a challenge to all the squires in the audience. I beseech you to don the armor of a knight and come forward. Dost thou hear the trumpet sounding? Send us your novel excerpts!
Now, onward to the analysis of Kate's intriguing tale!
There are lots of things in the world I guess no one was ever really made to understand. Different things for different people sometimes, but for the most part it all boils down to the inevitable. Things like destiny. Love. Evil. Death. I know a lot about death. But destiny especially. [Read more…]