By Jamie Dougall
A brilliant new plot enters your mind. It charms you with sweeping intrigue, fascinating characters, and a premise that cannot be ignored. You immediately start writing, but eventually you realize the story is cliché. All your creative juices die, and you pound your head on your keyboard, wondering why you thought it was a clever idea. The characters are plastic Barbies and G.I. Joes who take three hundred pages to reenact your favorite movie. The ending is predictable. It's an utter disaster.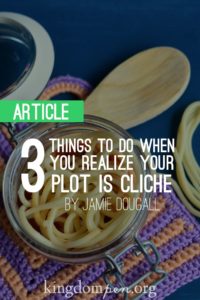 Maybe you are being a bit melodramatic. It's not all that terrible, yet the cliché is present, blurring your scenes into predictable goop. How will you ever fix it?
Clichés are unacceptable because they are repetitive—similar characters playing out similar situations until the plot line becomes insipid. It's like several people feeding you their own version of spaghetti. Every. Single. Day. You get sick of it, and the next time someone claims their recipe really is different, you're unimpressed. It doesn't matter if this sauce has a smidgen of brown sugar. Or the villain only looks like an evil hag. Or the protagonist's name is not Rapunzel, but Genevieve d'Beauchene. Not only is that a mouthful, it doesn't conceal the clichéd plot. And we are so done with that flavor.
So how do you spice up a story that tastes too much like bland spaghetti? Read on, and I'll cover three techniques that may pull your plot out of yesterday's clichés and to the forefront of originality. [Read more…]