Back in April of this year, I was privileged to attend a Christian writers' conference where Nadine Brandes led a workshop (one of the main reasons I registered for the conference).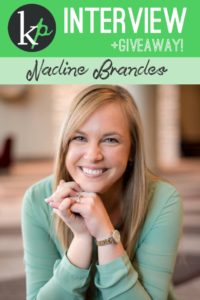 I'd been following Nadine for a while before the conference. I noticed how she was personal and sincere with her readers, wrote fun blog posts, and was becoming well known for her Out of Time series (which I didn't read until after the conference, and now I'm a fan). She seemed to hold some secret to being an author that I wanted to know.
Thus, I went to the conference with eyes and ears wide open. My expectations were not only met, but blown out of this galaxy.
I was amazed by her workshop, which gave me a vision for where I should take my writing, and I was flabbergasted by her enthusiasm to talk with me one-on-one. Somewhere in that conversation, I asked if she'd be interested in doing an author interview for Kingdom Pen, and she readily agreed. I was doing a happy dance on the inside!
So, without further ado, I hope you catch a glimpse of who Nadine is and are encouraged by her words of wisdom to aspiring authors.
Being an Author
KP: What led you to become an author?
Nadine: The imaginary voices in my head! [wink] Actually, I'm not sure I can narrow it down to just one thing. It's a mixture of God's prompting, my dad's storytelling, my mom's reading, my big sister's playacting, and my love of reading. I'd always loved the concept of story and being able to affect someone's life with it.
Only once I attended my first writers' conference did I realize I wanted to pursue publication.
KP: At the writers' conference, you said in your workshop that "being an author is more than just about writing, but about the ministry." Can you explain what makes writing a ministry? [Read more…]