I always need renewed vision when I'm writing. I'm constantly needed to be reminded of my purpose in why I'm writing in the first place. And recently I've been challenged to stop and think…
Why is writing so important to me? Why do I spend hours at a time clicking away at the keys to add words to another page?
Or maybe the question should be: why should writing be so important to me?
Is the answer "because I love it" good enough? Or "because I have something to say"?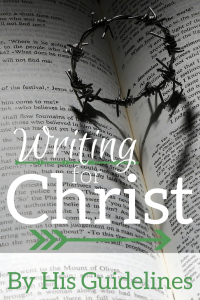 Should these be the answers that justify the hours and hours of time we pour into our stories? I suggest that they should not. There is so much more to writing than our love for it and because we have something to say. And it all lies on this one fact; that we belong to Christ. ("For the love of Christ constraineth us; because we thus judge, that if One died for all, then were all dead: And that He died for all, that they which live should not henceforth live unto themselves, but unto Him which died for them, and rose again." 2 Cor. 5:14-15) Therefore we represent Him in all that we do.
So how should we reflect, nay, radiate whom we represent?! I would like to propose this idea, which has given me new inspiration to continue writing for Him.
Why not let God's Book be our inspiration?
Think about God's Book. Since God wrote it, the book is perfect; therefore He is a perfect author. And we don't have many of those in our culture today, do we? In fact, He's the only perfect author I know. Which also means His book is the ultimate example for me, in everything I do, including how I write.
So how do we create our books in light of His perfect Words? How do we radiate His Words in the words we write?