By Kate Flournoy
Conflict is often viewed as two forces that clash and cause tension, but it's much more complicated than that. Conflict is engaging because it prevents a character from attaining a desirable goal, which readers can empathize with because of the struggles in their own lives.
Perhaps the character is a little boy named Billy who wants a cookie, but the jar is out of reach. This presents an obstacle, but it's a less effective use of conflict because it's not dichotomous.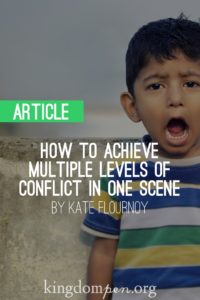 The Essence of Conflict Is Contradiction
Readers need two sides to root for, not just one character and an obstacle. Nobody can sympathize with an inanimate object.
Suppose Billy's sister, Sally, also wants a cookie, and only one is left. Mom told Billy he could have the cookie, but Sally didn't eat her cookie yesterday. They both have a legitimate claim.
We might be tempted to stop here. The obstacle must still be surmounted, but now two characters are vying for the cookie and readers can relate to both of them, so they're torn about who to cheer for. The conflict is more complex, yet is it enough?  [Read more…]