By Hannah Krynicki
Have you ever experienced the Wince Factor?
It goes like this: One evening you are enjoying a new "family" movie with younger friends or siblings, chuckling at the jokes and sobbing at the tragic moments (and, as a writer, probably analyzing every element of the story). All at once, a jarring image flashes before you and the younger children. Mortified, you snatch the controller, but it's too late. The kids around you have already witnessed that gratuitous bit of evil, and as the oldest person present, you feel responsible. For the next week, you shudder every time you think of it. I call this infamous image "the Wince Factor."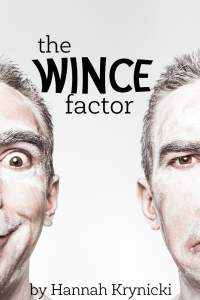 Now here is a pretty puzzle: not all Wince Factors are bad. You've seen the good ones. A well-placed Wince Factor can bring a sense of credibility to your story and keep your readers on the edge, wondering just how the characters will deal with this. The bad Wince Factors, however, have the biggest reputation. Most are so dreadful because the guardians, especially parents, are trusted with the job of protecting young hearts. When the bad Wince Factors turn up, they feel as if they have failed.
Director Peter Jackson once joked that while working out fantasy action sequences, "You actually turn into a psychopath." That's probably the great fear of every Christian writer. No one wants to be remembered as the psychopath who wrote junky gore and wrapped it up with a bow labeled "Young Adult." All of us must come to grips and to terms with  questions about darkness and gore.
How much is too much? Should I use the Wince Factor or not? [Read more…]