How graphic should one be when writing a battle scene?
When forming a beating or torture scene?
When describing the dark rituals of some fantasy druid?
These, and hundreds of related queries are valid questions. And yet, to answer inquiry with inquiry, there's one question which can help clear up this confusion. And the answering question is this: where does your focus lie?
As Christians, when we write a story, what are we trying to focus on and portray?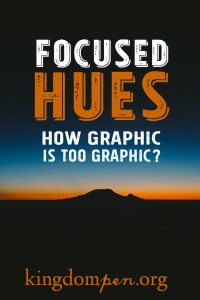 Philippians 4:8 reminds us to think on things that are true, honest, just, pure, lovely, of good report, and are of virtue and praise. This would include what we watch, listen to, read, and, of course, what we write. There's trouble in every story, as well as darkness, danger, and perhaps violence, but what is your focus on? The good or the bad? The golden hope and light, or black despair and darkness? As Christians, our point shouldn't be to get a story as dark and gory as we can without stepping over the line. The point is to glorify God though our writing, and as we take up the pen or sit down to type, we need to keep that in mind. Darkness and violence may (and, quite often, do) have their own place, but don't write dark and gory scenes simply for their own sake or to add shock value to the story.
"Still, as every painter knows, it takes the dark shades to bring out the vividness of the light. Which brings us back to the original question of how much darkness a Christian writer should put in their story." 
The most common question, and also the broadest, involves how much blood, gore, and violence should be shown in a book or story. Like many things which aren't really a 'sin issue', different writers will have different convictions on this topic, and unfortunately there isn't a hard line of 'over here, everything is acceptable and good, but on this side everything is bad and wrong'. Somethings are obviously good, some are obviously unnecessary and over the top, and yet the majority of these red colored queries are tinted with gray and depend on the circumstances. It can make things a pain to figure out sometimes, but here are a few guidelines which will hopefully help.
First, don't write something that you'd be uncomfortable reading yourself.