Why does love in so many books or movies get relegated to the narrow confines of romance? Yes, romance is love, though much of what is portrayed nowadays is a very shallow love at best. But there is so much more to love than a love triangle or tangled romance. Love can be deep or shallow, directed towards self or others, portrayed in a godly manner or otherwise. There is so much one can do with love as they create characters and stories, be it the presence of love or its absence.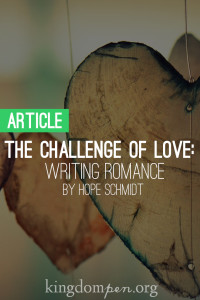 The most important love which affects your character's life is their love for God.
Whether the story takes place in the real world, or in a fantasy one ruled by a Great King, the love (or absence of love) for God molds and shapes the character and his worldview. At one end is a character who loves because of the grace and love given to him, who follows such love by obeying the orders of their God, and who shows the same love to others. On the opposite end is the one who disregards the love of his King, who loves only himself and works only for his own gain.
Of course, between these two, there is a wide range of characters, from those who love but don't trust, to those who are lukewarm, to those who love greatly but place their love on the wrong object or show it in the wrong ways.
There is always going to be some love somewhere: be it for self, for a child, for a leader, for a nation, or for a god. And that is where fascinating backstories can come into play. What does the character love most above everything in the world? Why does he love? And is the object and reason of his love the greatest there can ever be, or might someone else come to his aid and claim that love for his own? And does the love of one beget more love, as in the case of loving God, or does it cause bitterness and hate further down the road?
The most difficult love in your character's life will probably be loving their enemy.