By Jess Hessler
I wasn't too excited about visiting Gramps. After his last stroke, the doctor decided to keep him for a couple weeks to monitor the after effects. Gramps couldn't talk or do much. He would just lay in the white bed while the various machines groaned and hissed periodically.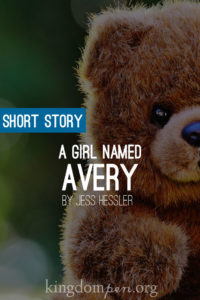 Mom glanced at me from the driver's seat. "Honey, I know you don't like hospitals, but Grandpa is all alone. You can at least visit him."
I shrugged and turned on the radio. Mom sighed, and we rode the rest of the way without conversation.
Grandma passed away a few months ago. The doctor said the stress and grief might have caused Gramps' stroke. He missed her and had not gotten over his sorrow. Supposedly only time heals wounds like that. I wasn't sure there was enough time in the world to get over the loss of a loved one. When Grandma died, I sobbed on my bed for hours, feeling cold and dreary like the icicles outside my window. After that day, something seemed to plug my emotions. I couldn't cry anymore. I went through the motions—high school, homework, and sports. The funeral passed, and winter melted into spring. Then summer came. [Read more…]