Kingdom Pen thanks Hailey for this insightful interview! Hailey recently completed and published her first novel, Jaded: The Silent Whisperer. The first in the Jaded trilogy, you can find this book on Amazon for print and in an Ebook edition.
Kingdom Pen: Kingdom Pen's motto is "Write for the Kingdom." What first inspired you to follow Christ and write for His Kingdom?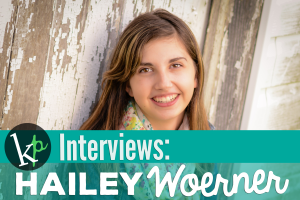 Hailey Woerner: That's a good question to start with. I've always loved to write, and it's been my dream ever since I was nine to write and publish a novel. I think the one thing that inspired me to write for Christ was the realization that many books labeled under "Christian" are, obviously, tailored towards Christians.
But If there's anything I've learned from the bible, it's that God wants to be heard by those who are broken, and don't know him. That's why my books won't be put in the "Christian" category. I want to reach those who aren't Christians, and maybe God can speak to them through the theme of my story. My goal is to reach as many people as possible, and to do that, I will be putting more and more hints of the Spirit as I write each book. Less in the first, then work my way up. That make's sense, right?
KP: We've all received the trademark "You do what now for fun?" looks when we tell others we love to write! What part about writing do you love the most and why?
HW: Oh, my. There are a lot of things I enjoy about writing…but I guess my favorite part would have to be creating the characters. The reason being, it's an awesome feeling to create this whole new person. One with goals, struggles, and real feelings. There's just something special about creating a new character—choosing the perfect name for them and giving them values. My novel is very character driven, so that might be part of it as well.