Our theme for this month was death, which might seem like an odd theme to encourage young writers to focus on. Is it healthy for Christians to dwell on death? Isn't the difference between us and the world that we don't focus on death in the way that it does?
On the contrary, however, death is central to the Christian faith.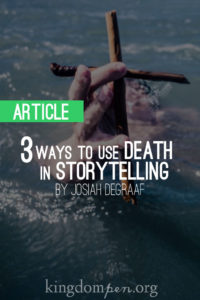 The cross obviously stands central in Christianity. But it isn't just Christ's death that is central to the Christian faith. It's our own deaths as well. Our spiritual death in Genesis 3 sets the whole plan of salvation in motion. And the reality of our physical death urges us to make the most of our time on earth by winning others to Him.
I once heard a pastor say that his goal was to teach his congregation how to die well. Death is, after all, the final test in our lives and the point where we need to have either accepted or rejected the claims of Christ.
Death is central to the Christian faith. By extension, therefore, it ought to be central to our storytelling. Although not all stories that Christians write need to encompass death, it ought to still have a prominent role overall, and when we use death in our stories, here are three ways it can be done biblically. [Read more…]