"It is a truth universally acknowledged that a hero in possession of reasonable talents and good looks must be in want of an arch nemesis."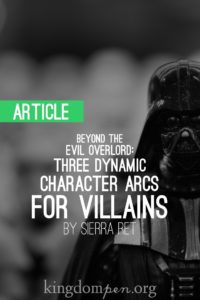 Although the above statement is nothing more than a bad Jane Austen paraphrase, every writer knows that a story is vapid without a villain. Without darkness, how will the light shine through? No one can test, provoke, or push the hero to reach his full potential the way a villain can. In all likelihood, without the villain, the hero would still be a poor moisture farmer in a planetary backwoods.
But even though we recognize that a villain is essential to the success of a story, we tend to focus our efforts on fleshing out our protagonist's motivation and personality. We may create the most unique and compelling character of the century, but if our main villain is a lazy, dark-lord-Sauron imitation, the story's overall quality will be reduced.
A stagnant villain is a boring villain. With that in mind, let's examine three dynamic character arcs villains can follow. [Read more…]