Name a Disney film. Name both of the hero's parents.
Not easy, right? Usually at least one of the parents is dead. Although Disney has other reasons for doing this, the main one is to develop sympathy in the audience for the hero. Sometimes it works. But it also comes at a price.
People, especially young adults, are surrounded by family. Whether they want to be or not, they are stuck with their family and have to interact with them every day. Though some might not admit it, familial relationships are the strongest relationships anyone can possess.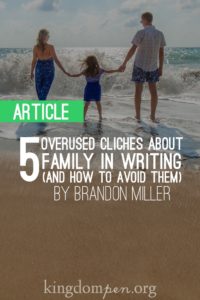 Why aren't we highlighting these relationships when we write stories? Most of your readers will have close friends from church or school. Many of your readers might have "significant others." (I hate that term; isn't everyone significant?)
But all of your readers have (or have had) parents. [Read more…]