First chapters are hard to pull off.
You need to introduce your protagonist, your story's setting, and the beginning of your plot in an engaging way that entices people to keep reading. This last point gets hammered on again and again by editors and agents, which can make writing the first chapter seem imposing.
You may wonder whether it's really worth it to throw yet another element into the first chapter.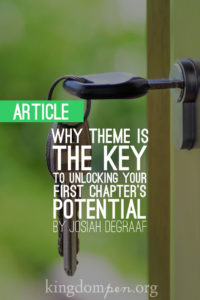 At first you might assume it's optional to include theme. I'd like to propose, however, that a strong thematic presence is far from extraneous and can actually be the missing piece you need to enhance a first chapter.
Theme Generates Excellent First Chapters
Few things intrigue as much as a good theme. Theme gives the reader a reason to care about your story, because it correlates fiction to the real world. The biggest mistake I often observe in newer authors' first chapters is that they focus on an action sequence that's supposed to be compelling. It might be compelling in film, where the audience could actually see the battle or gunfight, but in a text-based story it doesn't work because readers have no reason to care about what's happening. [Read more…]