Romance. Generally, a genre I choose to steer clear of. Always. Which can occasionally put me in an awkward situation. Being a girl and all. I am just more of an action girl. It has always been my favorite. But I hear the word 'romance' and wince.  I have nothing against those who love writing romance fiction; it is simply not my strong point. (Believe me, I tried. Don't ask about it. It was ugly.)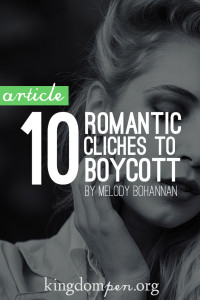 Besides all this, I do appreciate some romance fiction; properly executed, I really love it. My favorite romance author is Francine Rivers. She is fantastic with the unexpected. I never know what direction the story is going to take, she keeps me guessing the whole time. I highly recommend her Mark of the Lion series.
Part of the reason I dislike a lot of romance is because of the way many writers handle it. So, I have compiled a little list of clichés and pitfalls in romance fiction. A lot of these I learned from experience when I attempted a romance.
1. Perfect guy falls for boring girl
The biggest cliche of all romance fiction. I am guilty of using this method in one of my stories. The nobody girl, struggling in life, not confident with her body, meets the hot, handsome, and successful guy who magically has interest in her over tons of other hot girls. Practically everyone has had this idea roll through their head while considering romance in a story. It's pretty typical. Awfully typical. This ties in with my next point.
2. The perfect guy
This one is the worst. It is all over the place. The guy has the absolute perfect body, great career path, and is fantastic at everything. But then, sometimes you have the counterpart, which can be equally annoying. [Read more…]