By Jane Maree
I scrub some of the dirt from between my fingers, trying to ignore the furious beating of my heart as I hobble across the pavement. My arms sting with small nicks and scratches from hours of scrabbling through the ruins, but all for nothing. I didn't unearth a single tiny root.
Not even a hint of green.
And now I'm late again.
The apartment door looms up in front of me, the scanner glowing a soft blue. I lay my hand beneath the sensor. If I slip in quietly maybe Venys won't notice.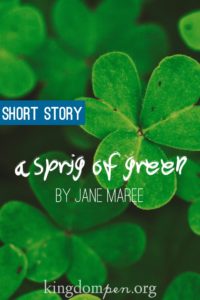 "Good evening, Michayla." The automated greeter registers my identity and swings the door open for me.
"Clover Glyn," I whisper. How long had it been since Father remarried and Venys reprogrammed the greeter to omit my middle and last name?
One week. Maybe two.
I tiptoe into the hallway, placing each step tentatively against the cold boards. The floor vibrates with the heavy bass blaring from the parlor, but the laughter that accompanies it is still audible over the sound. I clamp my hands over my ears, inching toward the nearest door. [Read more…]