In my article, "All Art is Christian Art," I proposed that any beauty in art must by necessity find its traces in the order of the world God created. My three main goals were to show that art is essentially objective, being grounded in God's original design; to prove that secular literature can still give us an incredible understanding of God and his creation; and to help Christians evaluate literature and be savvy in their reading choices.
I thought my case rested there, but through certain conversations, I began to realize that I had failed to cover a precept that was vital to the Christian approach to literature.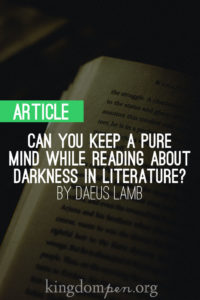 I had a serious problem because I was up against a Bible verse:
"Finally, brethren, whatever things are true, whatever things are noble, whatever things are just, whatever things are pure, whatever things are lovely, whatever things are of good report, if there is any virtue and if there is anything praiseworthy—meditate on these things" (Philippians 4:8, NKJV).
Based upon what I already knew about the foundation of art in Christianity, I was certain that even books with faulty themes could impart loads of good and noble things to meditate on. [Read more…]