By Hope Schmidt 
I've created three fantasy worlds in the past four years. Designing worlds, writing legends, holding the first printed copy of your book…it carries a thrill of creation. Of bringing to light something which didn't exist before.
For those on one end of the spectrum, creating worlds is exciting and it can be tempting to avoid actually writing the story while forming layer upon layer of details worthy of Tolkien's Middle Earth. On the other end of the spectrum are those who want to get the world building over as quickly as possible so they can move onto the story. In either case, it's important to have enough development in your world so the story rings true and yet not get so bogged down or glide so high that you don't ever move on with the story by which this world will be known.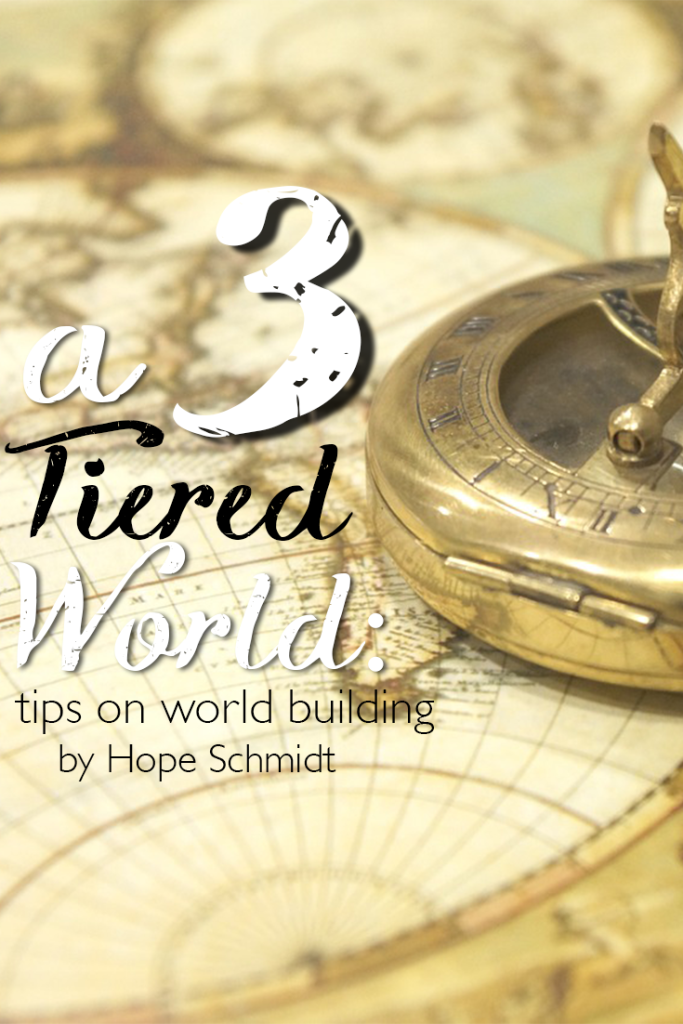 It may be easiest to view your world like a three-tiered structure and, while I'm focusing on fantasy worlds here, this same template could work if you are writing about our own world in the far future.
3 Tiers to every story world
1. The Foundational Tier
The first, or bottom level is the Foundational Tier of your world. This is your geography. The lay of the land. Whether you have one nation or several, there are the same basic formations such as rivers, forests, mountains, cities and roads. National lines need to be drawn and the nations themselves named (there's no need to worry about national flags and cultures yet…that will come in a bit).
Also part of this first layer are fun details, like how many suns and moons your nation has. And then there are other aspects which you may or may not decide to develop depending on whether you need them or not…details such as what stars travelers use to guide them, nighttime constellations, weather patterns, unique storms, and length and type of seasons.